Alarm Receivers - GeoArm Security®
List Price: $119.98
Special Order: $79.99
List Price: $29.98
Your Price: $19.99
List Price: $103.35
Your Price: $68.90
List Price: $108.11
Your Price: $72.08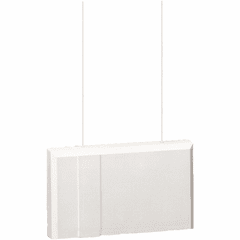 List Price: $228.88
Your Price: $152.59
List Price: $382.24
Your Price: $254.83
What is an Alarm Receiver?
Wireless Receivers
Makes Installation and Expansion Easier!
A wireless alarm receiver communicates wirelessly with the various sensors and detectors in a security system. This means that the sensors do not need to be directly hardwired to the receiver, making installation easier and more flexible. The wireless receiver receives signals from the sensors when they are triggered, and then sends an alert to the security system's control panel. If monitored, the control panel transmits the signal to either the end user and/or the GeoArm central monitoring station, which can then take appropriate action, such as contacting emergency services or a designated keyholder. Overall, a wireless alarm receiver provides a reliable and easy-to-install solution for expanding an new/existing home or business security system.
There are several advantages to adding a wireless alarm receiver to a security system:
1. Easy Installation:
Installing a wireless alarm receiver is relatively easy compared to traditional wired systems. There is no need for running wires through walls, which can be expensive and disruptive to the building structure.
2. Flexibility:
Wireless alarm receivers can be placed anywhere within range of the sensors, allowing for more flexibility in installation and configuration. This also makes it easier to expand or modify the system as needed.
3. Reliability:
Wireless technology has come a long way in recent years, and modern wireless alarm receivers are highly reliable with a low rate of false alarms or missed signals.
4. Cost:
Wireless alarm receivers are often more cost-effective than traditional wired systems, especially for smaller installations or retrofitting existing buildings.