Smart Thermostats - GeoArm Security®
List Price: $193.11
Your Price: $128.74
List Price: $185.61
Your Price: $123.74
List Price: $365.63
Your Price: $243.75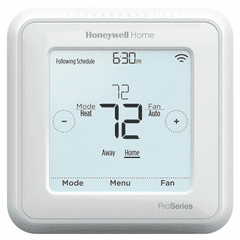 List Price: $299.98
Your Price: $199.99
List Price: $245.61
Special Order: $163.74
List Price: $279.36
Special Order: $186.24
List Price: $410.61
Special Order: $273.74
What is a Smart Thermostat?
Smart Thermostats
Remote Control of Temperature!
A smart thermostat is a device that allows you to remotely control the temperature in your home using a smartphone or tablet. It uses sensors to monitor the temperature and can automatically adjust it based on your preferences or patterns. Smart thermostats are designed to help you save money on energy bills by intelligently controlling your heating and cooling system, and some models can even learn your habits and adjust the temperature for you. Some popular smart thermostat brands include Alarm.com, Ecobee, and Honeywell Home. Many smart thermostats are compatible with security systems and can be integrated with them. This allows you to control both the temperature and security of your home from a single app or device.
There are several advantages to having a smart thermostat:
1. Energy Savings:
Smart thermostats can learn your temperature preferences and adjust the temperature accordingly, thereby reducing energy consumption and saving you money on your energy bills.
2. Remote Control:
You can control your smart thermostat from anywhere using your phone, tablet or computer. This means you can turn up the heating before you get home, or turn it off when you're away, all from the comfort of your phone.
3. Easy Programming:
Smart thermostats are easy to program and can be customized to your schedule. You can set different temperature settings for different times of the day, and the thermostat will remember your preferences.
4. Integration with Other Smart Home Devices:
Smart thermostats can integrate with other devices in your home, such as smart speakers and smart security systems. This means you can control your thermostat using voice commands, or link it to other devices to create a more seamless smart home experience.
5. Environmentally Friendly:
By reducing your energy consumption, smart thermostats can help to reduce your carbon footprint and make your home more environmentally-friendly.